 Website Missouri Slope
Long Term Care Facility in Bismarck ND
Mealtime Assistant (CNA)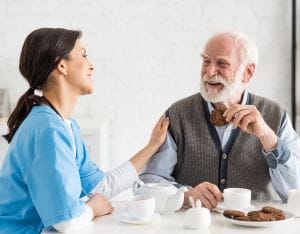 Looking for a rewarding career in the healthcare industry to utilize your CNA licensure? Look no further than Missouri Slope, where we're seeking dedicated CNAs to join our team as Mealtime Assistants. As a Mealtime Assistant, you'll be an integral part of our resident's care team, ensuring they receive proper nutrition and hydration while also providing companionship and socialization during mealtimes. And with the highest wages in the area, you'll be compensated for your hard work and commitment to our residents' well-being. If you're a CNA who's passionate about helping others and looking for a fulfilling career that allows you to make a positive impact, apply today to become a Mealtime Assistant at Missouri Slope.
Base Pay: $22.00 / Hour with Increased starting salary depending on experience
Short shifts
Utilize CNA licensure
Morning, afternoon, and evening options available
Utilize your CNA licensure for only a short amount of time per shift! Our mealtime assistants help residents during mealtimes and get to cultivate meaningful relationships with them while they work hand-on and face-to-face. This opportunity is great for individuals who cannot commit to a longer shift, but still want to utilize their nursing licensure!