Missouri Slope Foundation
Your support will enrich the lives of our residents.
The Missouri Slope Lutheran Care Center Foundation exists to enrich the lives of our residents, tenants and staff by raising funds to provide amenities throughout our campus that might not be funded without the generous support of our donors. The funds raised are crucial to provide a quality experience and assure the long-term sustainability of our organization.
Giving to the Missouri Slope Foundation helps the mission of Enriching Lives become a reality each day. There are multiple ways to give, meeting the needs of both the donor and the Foundation. The donor can choose to have their gift endowed, creating a lifetime of opportunity for the Foundation. Gifts may also be given to be used in full to purchase equipment, supplies, amenities, and other important items that do not make it to the annual operational budgets.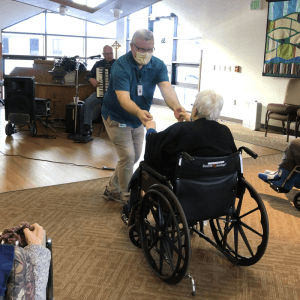 The Missouri Slope Lutheran Care Center Foundation has set an ambitious goal of raising $5 million during its Capital Campaign. The money will be used to complete the vision of the Washington Campus Project as many of the important features and amenities are not able to be funded through the loans and reimbursement system. Spaces such as a Chapel for residents, tenants, families, and employees to worship throughout the week; a Bistro and Coffee Shop will be a great destination for all to feed their body and soul; a therapy pool to allow the most fragile and weak to regain strength and confidence; a child day care center will allow daily interaction among the youngest generation and the greatest generation as well as meeting the child care needs of our employees.
Gifts to our Foundation are tax deductible and we offer a number of options for giving
Missouri Slope is the only locally owned and managed long term care and senior living organization in our region. We are fortunate to have support from our member churches and the greater community. All money given to the organization stays in the community and has a major impact on the daily lives of residents, tenants, families, and employees. Our Foundation is a non-profit 501(c)(3) charitable organization. We have many options for giving including a tax credit qualified endowment fund, gift annuities, a capital campaign fund, general funds, and M-Club for the special projects aimed at Enriching Lives.
Come see firsthand where your money is going when you donate to Missouri Slope. Our Development Officer will give you a tour of our skilled nursing facility, or assisted living facility and answer any questions you may have regarding your opportunity to make an impact.
Contact our Development Officer to schedule your tour today!
Phone: (701) 221-9349 | Email: foundation@mslcc.com
Learn how great it is to live, work and serve at Missouri Slope. Read the most recent Hilltopper Newsletter here:
Missouri Slope Foundation is a 501(c)(3) nonprofit organization, EIN 36-3589734. Donations are tax-deductible.